That's all I can say.  I finally got around to working on my mountain photos.  I had some time to work on them while at my parent's this past week. It helped  kept me from getting too depressed – but in betweeen business meetings and lawyers etc, photography was a welcome distraction.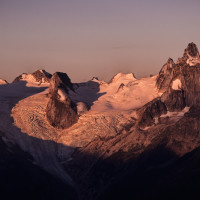 Most of these are right out of the camera – some have had a few minor adjustments and cropping made but there's not a lot of photoshopping done here.  🙂
I did find out  that my iPad is capable of editing the jpgs that go along with RAW files – so I have a whole low res, 800 px gallery of iPad edited images all in my photostream – I just need to figure out how to share these on the website!!! Anyone have any ideas?
But in any case, I have posted all the 'real camera" images in a gallery on the main site, just click here Bugaboos Gallery to check them out.  What do you think? Do you get a better feel for these Bugaboos now? I am seriously considering a repeat visit and taking a group of photographers with me. If you're interested let me know.
More to come.
ttfn – enjoy your day.