This is it boys and girls! SUMMER! Get to the beach, to the lake, to the woods – where ever you go to reconnect with nature, this is the best time to do it.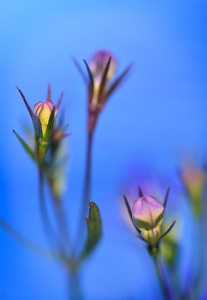 After finishing planting my flower pots last weekend, it was captivated for an hour or so with the colours and the movement of the blooms in the balmy June breeze. Here's one shot made on the Nikon D800.   Click to see the larger version.
The most amazing thing happened as I was shooting – the shadows of the huge poplar trees kept moving in the wind, creating strange patterns on the plants.  Being this close though, the patterns we basically UN-discernable, UNTIL  they fell in just the right way, so that the sunlit parts fell on the buds, making them look (to me) like tiny light bulbs that had just been turned on!
I have a whole series of these, they'd make a great triptych.  Brownie point if you can tell me the name of the flower!! hahaha.
Have a fantastic Canada day; and for my friends from Australia, Europe, the US, Scotland, and everywhere else, have fun no matter what you're doing this amazing weekend.