Give a great gift – digital photography lessons – with Gift Certificates for photographers!  You can use these gift certificates for workshops, lessons, classes, and personal instruction/private lessons.
With a full slate of programs coming up for 2011, the photographer in your life will love you for this!
SAMPLE GIFT CERTIFICATES FOR PHOTOGRAPHERS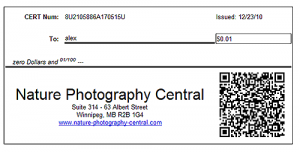 HOW TO BUY GIFT CERTIFICATES FOR PHOTOGRAPHERS
STEP 1) Pay securely with Paypal, you don't need a Paypal account, just your credit card.
STEP 2) Once your order has been processed, check your inbox for our email (GiftCertificates from NPC).  You'll be able to print your Gift certificate and present it to your lucky photographer! Or simply forward our email to the recipient! It's too easy!
STEP 3) Redeem It! Your recipient can print their gift certificate and present it to us when they register in person, or they can also redeem it by email – just forward the email with the certificate to us before you book your workshop or class and we'll apply it to the workshop costs!
The QR code security feature ensures that each certificate can only be used once. Guard it well 🙂
While there are NO refunds on our gift certificates for photographers, they are valid for 5 years so you can use them whenever you like! They can't be used with any other special offers and are only good once.
[wpgft id=1]
[wpgft id=0]
[wpgft id=2]
[wpgft id=3]
See more info on what to do with your gift certificates for photographers see our photography courses and classes here.