So by  now you are probably bored to death about how much I love my iPhone and how iPhone/cellphone photography has changed the game for the world. It goes without saying (which is a very strange phrase because as soon as someone says this they ARE saying…I'm just sayin'), a love my iPhone photos. Spontaneity is to be treasured!
And with treasures, especially the digital kind, you MUST back up! Periodically, I use the USB iPhone hack to copy images to my computer. This is usually easy – connect your phone to your computer, and it will appear like any other USB device, when you open this, you'll see a DCIM folder like yo do on any other camera. Inside are folders containing all your images. All you need to do is drag them over to your computer where you can burn them on a CD, or transfer them to a USB storage stick or print them etc,  An easy way to back up just your photos.
There is also iCloud
I thought I was doing the right thing – I'd paid extra for additional iCloud storage – Apple's "in the cloud" set it and forget it wifi back up solution specifically to make sure I didn't run out of room for the thousands of images I shoot on my phone on a monthly basis.  And to ensure that in case I forgot to copy to my computer or had some critical hardware failure my photos would still be backed up up in the cloud.
I have had to use iCloud back ups several times in the past – once when I upgraded my phone and another time when it was replaced because I dropped it and shattered the screen. iCloud backups worked flawlessly, and restored all my files and photos, both times.
BUT – and here's the most disappointing thing, you can't restore only your photos, or any other files. If you need to restore your photos or files  from iCloud, you must restore your entire phone. You can't access ANY files on iCloud. WTF, Apple? I found out the hard way – iCloud is NOT a storage system, it creates one big file that you can't access, so it is purely a back up system.
Here's what happened, and yes I found a solution. 🙂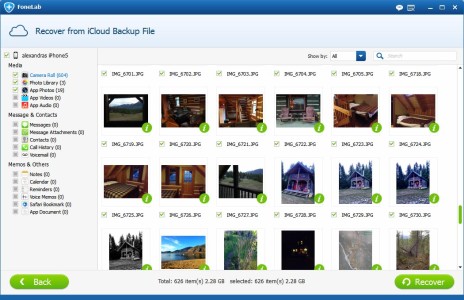 iOS 8 is out and after a few weeks of fixes and enhancements I figured it was safe to upgrade. Plus I'm doing an iphone photography presentation this Saturday October 11 at 1:00 (shameless self promotion) as part of the Flash Photo Festival, and because there is a demo involved, I felt compelled to be as up to date as possible. People would be asking me questions about the new iOS.
Unfortunately the upgrade is HUGE! I had to delete apps, files and HORRORS(!) photos to free up space for the update. Many of the older photos had been backed up several times in the past, so I had no problem deleting these. I had them on my computer, and on several separate drives.  And even on iCloud one would presume.
I  checked iCloud to see when my most current back up was taken, – all good there,  and I also used the USB transfer to copy my photos once again to my computer before i deleted anything.
I deleted my photos – 3 GB of them! With lots of free space now on my phone, I proceeded to install the new iOS.  After several hours it was complete. There were a few of the old photos I wanted to put back on my phone, photos of my parents for example and some of my recent trip to BC. Well, you can imagine my shock when I stared looking in my backed up folders for the pics – a few of the folders were empty! Of course these were the folders that had not yet been backed up at all. 🙁 After several hours of hunting through my computer to see if possibly I'd accidentally copied them somewhere else, I realized that those photos were GONE. They didn't get out of the phone and they were not on my computer.
So I'd have to resort to getting them back from iCloud.  It wasn't till after another few hours of searching online that it became clear to me that what I wanted to do was impossible. I'd have to fully restore my iCloud backup and with that, erase my phone and start all over again. This would be likely a 3 day process and I wasn't prepared for that. And besides, who would create a back up system that had no selective restore functions? Grrrrrrrrrr Apple!!
Ok, finally here's where the good news starts!
I found an app – a desktop app to be exact that lets you download your iCloud back up file to your computer and then it will extract the file types you want to keep ( photos, voice messages, texts, etc) and save them on your computer. It's not free and it's not even that cheap relatively speaking, but it works as advertised and it was pretty painless to use. Other than the fact that my Internet is so slow it kept stalling when it was downloading so the entire process took 3 days! Yes, I spent my entire weekend on this problem.
The savior app is called FoneLab, it's $69.00 USD and you can get it here – (I get no commissions or fees to talk about this product. )  Even if you  don't need it right now, bookmark their page, there's a good chance you'll need it soon. And besides for us control freaks who need to know our photos are indeed backed up, having ALL your backed up files fully accessible is critical. You can store them on dropbox for example, Google drive or any other cloud storage.
So long article, short lesson. Back up, back up back up and know what your back ups consist of. 🙂