Day 1 – Helihiking Adventure continued – 2014. The Fire.
We arrived back at the lodge. It was a crazy hot day and the evening was no cooler. After dinner a few people congregated on the deck to enjoy the refreshing but infrequent mountain breeze.
Someone came rushing into the dining room yelling for us to grab our cameras and head outside.
Panic. Fear. Terror. (click to view the larger versions)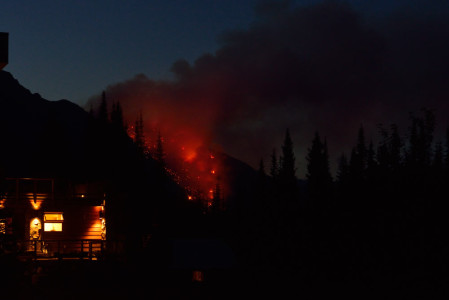 However, that didn't last long. But the fire did. The fire actually lasted all week, and had been flaring up of and on for the previous few days, lightning.
It was 4 KMs away and not at the moment any threat to anything or anyone. It would however continue to fascinate us all and provided numerous amazing photo ops, and a few hours of way too late into the night shooting, in an attempt to capture something very few people, thankfully, never see.