Do you have a bucket list? Do you have a photographer's bucket list – the top places you have to photograph in your lifetime? I've started to assemble a loose list of places to see, BUT…like going to your favorite restaurant, even though you want to try everything on the menu, you still end up ordering your favourite meal, I seem to be addicted to BC. And now I'm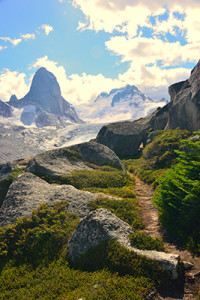 heading back to the Bugaboos with my bestie Kayla, and super cool mountain photog John Marriott. Another 4 days in paradise. What was most remarkable and what compels me to return is the moment.
You know, being in the moment, a skill much desired and in fact necessary for calm, and peace, but so elusive in our times. People practice meditation, and employ all sorts of techniques to "stay in the moment".  Well high atop the mountain range, literally surrounded by magnificent views, it's impossible NOT to be in the moment. I was there for 4 days!!! Exhilarating, no amount of meditation perfection has so far achieved what I felt being there.
So, I'm going back! Simple as that. And I've convince my bud to come too so that will add an entire new layer of experience on top of it all. We're going to a different lodge this year so the terrain and scenery will all be different. Again I'll be Instagram-in' so you can see the top of the world for your self!
That's me way down at the bottom of that scree slop below!! Thanks Lyle.