What about this silence from me?  Well I have no good answer I'm afraid.  I suppose was nothing too "blog worthy" happening in these recent days and perhaps the weight of all that winter snow was keeping be "pressurized!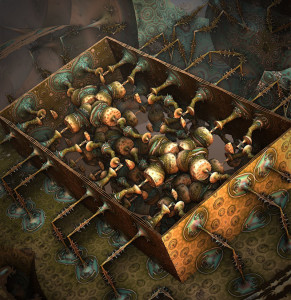 But with the melt in full flow, I seem to be thawing out and now fully awash in ideas and rants! Aren't you lucky!
So, i am back with the fractals this time, this one rather inspired by all the cleaning up from a few weeks ago. I think I will call it "The Hoarder's Nighmare"!  What do you think? Good title? Does it kinda give you the creeps? Click to view it LARGE!
The important upcoming event is the Spring iPhone Art photography workshop coming up on May 11, it's an all day fun hands on photo frolic!  You should definitely attend if you plan on using your phone for any summer vacation shots at the lake, the mountains or where ever the summer sun takes you. here's the link.
Spread the word – tell your friends!
Next up is the National PPOC Convention in Winnipeg at the end of April – OMG! this is a conference to attend – there are something like 12 international and "famous" photographers coming to Winnipeg to share their expertise. From early morning sunrise long exposure techniques to a sunset urban photowalk that includes an interior tour of the Canadian Museum of Human Rights, and more. Here's the link for that one too!
So that's all the bloggable news for today.  I'm on a roll – so see ya back here asap!