Nature photographers love the great outdoors and being immersed in nature. The good and bad is all good for us – capturing those truly ephemeral moments. And when we view our images seeing the results is almost as earth shaking as the actual event!  But sometimes a change of scenery is required.  Much of my still lifes and many of my abstracts are shot indoors.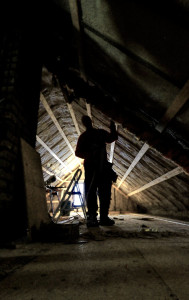 And now I will have a space dedicated to my indoor photography pursuits.  It's going to be a white room, It has great soft north light, and space galore.  Here's the progress of the development so far. Crazy!? Well there are no bats in my belfry, but there were a few signs of squirrel activity in this attic before I cleared it all out. eeeew. But with new windows, super spary foam insulation, a new floor and some drywall it's going to look just fab!!!
What do you think? Am I nuts, or just a dreamer?
If you haven't already be sure to drop in to the Wayne Arthur Gallery to see the T.H.E. Show. it's getting amazing reviews 🙂