One of the big advantages of the coming winter is that you don't have to get up at 4;30 am in order to see the sunrise.  There have been a handful of spectacular sunrises this year already.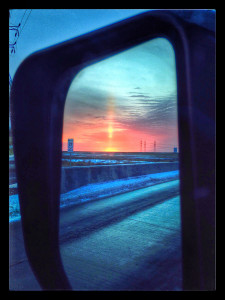 I was mesmerized by this one the other day while driving into the city. I thought about stopping to get a "real" photo but ( so not like me) I didn't have my big camera with me, just my iphone. There was too much traffic to risk stopping on the  highway and too much so that it would take ages to get back on should I have turned onto a side road.  Oh well…
Thankful for once for red lights!  I grabbed this quick shot at the Perimeter, the flare is still quite visible but nothing as powerful as it was only minutes before.
(if you want to know the apps used in processing this one – all I can say is Snapseed's new HDRScape  tool is quite amazing – give it a try,  is one of the best free photo apps out there!