It was a grand evening! The theme was the Great Catsby – and apropros for Hallowween, there were many guys and dolls rocking the roaring 20s attire. Yes, it was another Bow Wow Ball in aid of the Winnipeg Humane Society. It's such a fun event, and last nights vibe was wild, woof woof.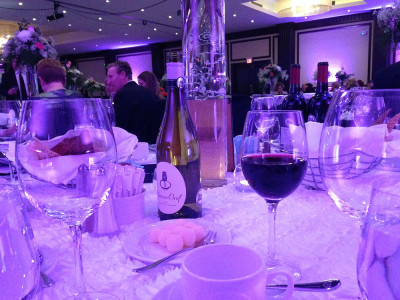 I had an amazing with friends Maureen, Barbie,  Christina and NJ  time catching up on a lot of good times –  past, present and future. The food was amazing and the prizes were right up my alley – a trip to Africa for example. However at $15000 it was just a teeny bit out of my budget hahaha. I settled instead for a bunch of balloons and the chance to win a trip back to the mountains for a 7 day stay at the Lake Louse Fairmont.  As people bought their balloons the entire room seemed to levitate, with the shiny silver orbs hovering everywhere. Quite a sight.
Alas I did not win a trip back to the Rockies but I did keep my balloons!  And at the end of it all, we manhandled them into the lobby and out to my car. Helium balloons don't behave well in the wind! No matter how I tried it seemed to be impossible to stuff them into my car. It was late, and cold, and windy and dark.  2 or three would settle in the back and as I grabbed for the others the ones inside would make their way back to the door! it was quite a fight.
For some reason, I looked up at the night sky and one of my balloons was sailing impossibly high carried by the wind it rose higher and higher till I couldn't see it in the darkness and it was gone.
I was now freezing and tired and with one last frazzled push I managed to get the rest all and slammed the door – finally. As I drove home, the highways was black, there were no stars. Just a bunch of helium balloons in the back of my car to amuse me.  I found myself thinking about  the one that got away.