When you travel to a photo location whether it 's the mountains or a ghost town, you can't take a risk that you'll forget something. My gear shelf is always in a state of total disorder – I am too embarrassed to show you what it usually looks like but as you know I am a geek and have a collection of gadgets, gizmos, dongles, novelty lenses,etc so I'm sure you can conjure up an image in your mind of what my studio looks like (if you actually cared!)So this evenings Ghost Town field trip with THE Camera Club got me motivated to get better organized, and to get my sh*t in order for tonight.
Here's all the gear I am bringing!
3 Nikon cameras, one for people to use if they don't have a B setting on their cameras;
2 tripods – I hope to make some videos of the event so one is for the video cam(!);
1 GoPro Hero2
2 off camera flash stands – for flashing the interior of the buildings for extra ambiance and mystery!
colored gels to change the colour of the flash. ( see Troy Pavia's amazing images for examples of what THE will be experimenting with tonight)
Bug spray
Safety boots – glass, nails and other nasties hide in abandoned places
a cooler full of diet Pepsi
an old white cotton curtain
assorted old props
my iPhone and iPad
rave glow sticks ( left over from my raving days LOL!)
cable release
more batteries
tape
Triggertrap mobile
2 wide angle lenses
a thermos of Starbucks
small stepladder
bandaids
clamps, stapler, elastic bands
2 flashlights
Do you think it's too much?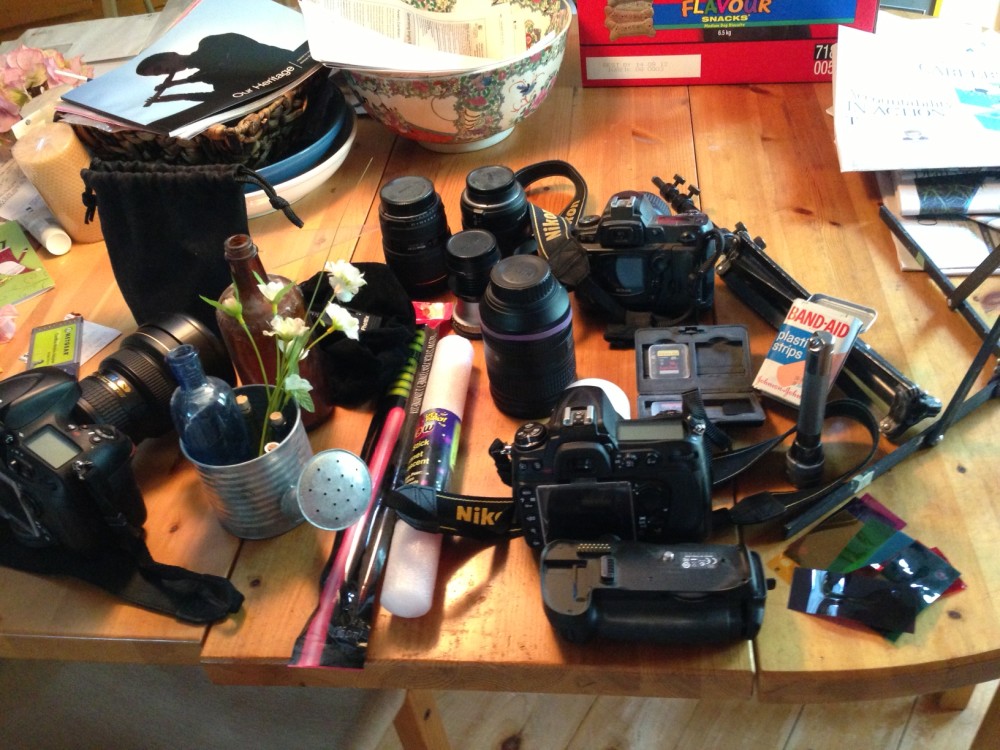 In the process I also prepared a checklist of required things to bring when you're doing an evening abandoned building shoot on the Canadian prairies – or most anywhere else too. Download it here for your next photo field trip.