A huge collection of table settings, table cloths, placemats, everything you'd need for a fab dinner party.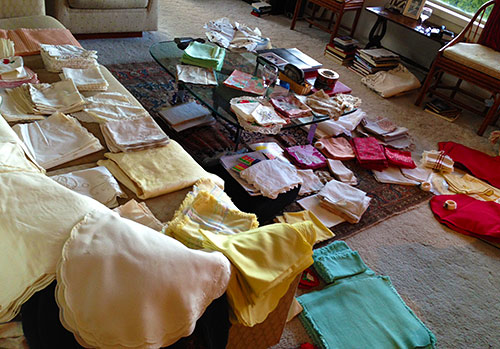 My sister and I  and sorted and decided that a lot of this stuff could b e donated to charities. Between the dinner notebooks and recipe books, and all her fine china and crystal, it was as if we were transported back in time…when Margaret was the epitome of grace and hospitality.
We replaced the 30 year old microwave- -I am sure it is spewing radioactivity all over the house. AND it developed a spring-loaded on/off switch that inconveniently fired like a projectile across the room when the clock turned over to 0 – done.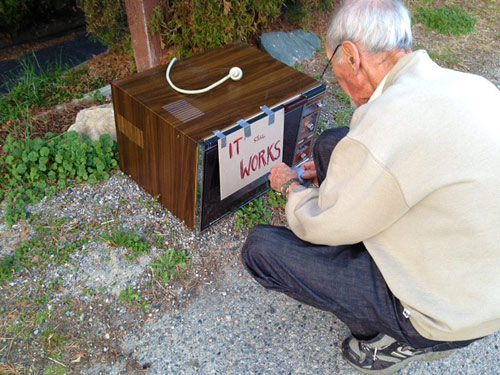 The thought of this most crucial part going missing rendering the oven a useless brick, and my dad fretting about where to either find a (non-existent) replacement part or jerry rigging his own, all the while going with out food and obsessing about the fix, petrified me  – so he now has a shiny new microwave.
And it true Scottish and BC style, we lugged it to the end of the driveway, placed a sign on it and within 12 hours it was gone! (We are employing the same tactic for some old furniture today!)
Tomorrow it's jewellery and clothes….
In the meantime, if you would like any of Margret's collectables and antique knicknacks  head over to facebook where we're having a virtual garage sale of some of the more high end items she accumulated over the years.  Waterford crystal, Royal Crown Derby collectibles, silver candleholders, artisan pottery and ceramics, china, and more.
Here's a Rosenthal Studio Line porcelain vase that would love a good home.