On March 24, 2013, at 1:40 in the afternoon, my beautiful mom died. Her ordeal with cancer is over.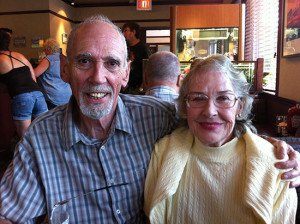 I can't describe in words the hole her death leaves in my life, and the lives of so many people, it is huge and profound. She was (and is) loved by so many people, from her family and close friends, to the check-out lady at London Drugs where she'd buy all her knick knacks, to the girls at Coles Bookstore where she'd buy her Hello! and People magazines and all the other mags she loved to read. Everyone loved her – she loved everyone Darling! Always with a kind word, a bit of a story, or just a simple inquiry as to how the other persons' day was going, always sincere. Always with a smile. And always, Yes, Dear. I know Darling!
…shattered.
If you've gone through this with your mom or dad, I am sure you know all the feelings and thoughts that fill your heart – ok for a while, and then with the sudden recall that she is gone, forever, a new tidal wave of sadness and indescribable loss.
I was extremely lucky to have the mom that I had. She was a great mother and an even better friend. She was funny and odd, and as she got older and a bit more quirky and eccentric – we have so many hilarious stories about our funny mom! She kept her cane (acquired after her  hip surgery) even after she no longer needed it- because she liked the "idea" of a cane. She had a special blinged up model that was for when she went out to the theater or to dinner with the book club. Ever the fashion plate! My mom.
But she did have a great life – she traveled the world, had a  "glamorous" career in the fashion biz for a while, had so many friends, always the social butterfly. My mom.  She loved entertaining and threw the most elegant and delicious dinner parties. She was an amazing cook and her biggest joy was cooking for us and her friends. Ironically my dad is a "meat and potatoes" guy and would have been happy with anything, but my mom turned even the drabbest hamburgers into a gourmet feast! Always cooked with a "just thumbnail of butter!" Judging by actual amount, my sister and I joked that must have been the jolly green giant's thumbnail she used as a measure!  But the Sunday dinners on Egerton Road were legendary  – and very unlike any other Sunday dinner you may be familiar with!!! Good times. Always.
I miss her terribly already. My family's world  has changed  – she left way too soon, the party was just getting going.