A February in the Okanagan: something I have never experienced.
The garden that she tended so meticulously is withered and dead.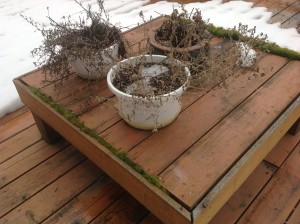 The home that she was fanatical about is dusty and unkempt. The winter wind blows cold. And this is her winter. And her spring is not going to arrive like lion, or a lamb. Her spring will not come at all.
The blessing if there is one is that she doesn't know. I'd like to say blissfully unaware. But there is no bliss. There is only a shadow of what could be sadness.
And this too is something I have never experienced….
The metaphor is piercing.
…