The dishes have all been washed and put away, the wrapping paper recycled. Gifts have been exchanged and now maybe you have some time to relax and enjoy a few days off before going back to work. (Maybe you even have time for some photo field trips (I do!).
And so another Christmas has passed – I hope your memories of this season will be warm, and wonderful. I hope you had plenty of photo ops to capture those moments. They are fleeting and unfortunately we never how how long we will be here to enjoy them.
On Christmas Day I  had a family dinner in the country and the ice candles and lights of the outdoor evergreens looked amazing! I used my iphone to capture the  outdoor scene as well as the indoor xmas tree lights which were reflected on the window glass.
In the middle photo, I used a fake bokeh app since I don't have any filters or lenses for my iphone – the app is called photoJus Bokeh – and I used the free version.  The effect is quite realistic except that it doesn't actually effect the real lights in your photo – it adds fake bokeh as an overlay, so a sharp eyed photographer will  notice the selective shapes and realize it's an overlay – but what the heck! the effect is nice – don't you think?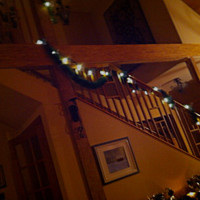 The third one shows the reflections of the lights up the bannister, reflected in the window but it looks like the entire yard is swathed in lights! I love t his one. Here is the shot of the indoor lights that were reflected at the top of the photo. Can you see how this worked?