Buzz spent the day at the vet's getting IV fluids and pain medication.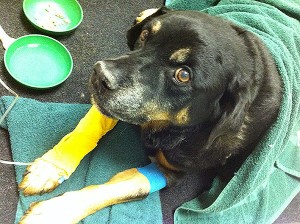 I went to get him at the end of the day and the staff was treating him like a prince. He gets great attention there – I think he almost likes the visits to the vet. He actually ate for the fist time in 4 days.
He was waiting for me to get him, all bundled up – but still connected to his IV. He looked so sad. He is very sick. Dr. Larry says Buzz has a  20% of bouncing back. He isn't responding to the first course of treatment and it's making him nauseous so he was not eating or drinking. He's very weak and tired.
I'm not a fan of heroic measures for humans,  myself included – in the end if all we have is our dignity we will have died a good death. I want Buzz to keep his dignity – he was once upon a short time ago a noble and powerful dog – and so gentle and funny. I would be grateful to have him around for a while longer.
I owe him so much. He asked for so little.