For all the years I have been making my little trips out west, I passed this old farmhouse always wanting to stop and capture it's character and presence.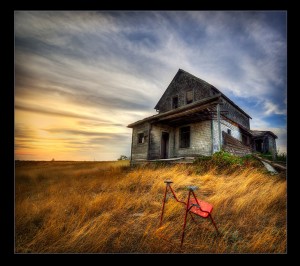 Unfortunately, it's situated right along the trans Canada Highway and stopping was not ever an option. On this trip i looked again for the house but it seemed to have vanished – and why wouldn't it? It had been decaying up on that hill forever. I suspected it was either trashed and burned late night party animals; or had been demolished by the municipality for safety reasons.  I was more than a little heartbroken by this thought. Had I missed my chance?
On the return drive it was getting late, I'd spent too much time in the brooding snowless mountains and got a very late start – grrrr! So the sun was setting, and I was hungry and tired and as I rounded the bend,…there it was! Perched on a hill overlooking the prairie like a castle keep.  And because it was late there seemed to be no traffic behind me. PIT STOP!
How did I miss this before – well, the highway had been twinned and the westbound lanes cut a new path far to the north of this place, so if you're driving west, you will never see it! It's only accessible and visible going east. My lucky day, the house was still standing and it relatively good shape for what it is.
Just a bit of graf on the outside and more inside but I didn't venture there. No safety boots, and, well,it just didn't look anywhere near safe enough to enter. (Plus there might be ghosts!!)
So, what do you think? Was it worth the stop?