So you want to know how it went last night  at the PPOC Manitoba Awards? Ok, I won't keep you in suspense too long. 🙂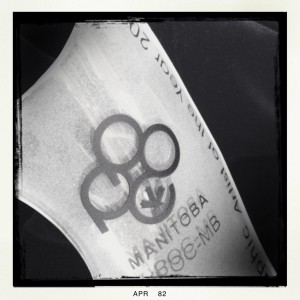 I was selected Manitoba Photographic Artist of the Year for the second year in a row! I am very surprised – the competition was intense and there were many amazing photographers who entered some very fine images.
Congratulations to my friends Rodney Braun and Joel Ross, who also won major awards. And I must say 2 very excellent gentlemen to party with. (I've never seen a double dip performed like we threee did in that photo – can't wait to see how that shot turned out.)
Thanks of course to the judges, and all the competitors who hung their hearts out to be "dissected."  It's not an easy thing to put your heart and soul into a photo and have it publicly analyzed. Hat's off to everyone who took part.
I also found out this morning that these same (almost) images scored pretty well at the PPOC National this weekend as well. I could be in the running for a trophy in the Fine Art category and the Experimental Category. Results in a few weeks.
Here's my trophy!  And a little triva –  3 out of 4 of these images were made on my iphone. My iPhone photography class is staring in May, 2012. Wanna make images like this too? Stay tuned for the time and date.