I actually did it – and I am going back again.  Barry (my pilot) and I had quite a time up there in the clouds. hehehe.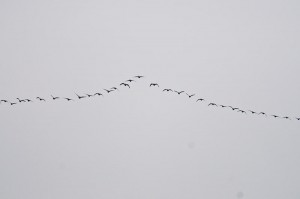 With silly jokes abounding ("Are you as scared as I am?"  "Good thing I had a nap a few miles back" etc etc), I even flew the glider on my own for a few minutes.  The GoPro
took some great video, although I had the camera mounted funny but because I couldn't mount it on my helmet, I had to use my leg, and as a thigh-cam it is not the best.  You'd have to tilt your head to the side to see the camera's view.  There was also a still camera set up on the wing, although I'd say Barry needs a few photography lessons from me!  (Video will be uploaded on Wednesday – it needs severe editing!!!!)
We flew without the engine, which in the summer is the normal way to fly these gliders but there are no thermals on the prairies in November, so the engine meant that we could stay aloft for much longer. But with no engine noise it was the best.  It was what I want to do.
We flew into the clouds. Tremendous elation.
So here's what you need to look for in the flight photos – the horizon.  The horizon is pretty much level with the glider except fro the one pointing straight down – it is real and it was a dive!  Through the radio headset he tells me to "look scared cos we're taking another picture right now" that is not great acting on my part – it's real. But OMG it was a fantastic experience and I will be doing it again without the engine.
A tandem flight on a glider that is towed to altitude and then you fly it around till you come down is the ultimate.  Well almost ultimate. Flying a glider solo is my true goal.
Here are the stills, video to follow: