You know me – I love the hot summer months and this summer had been one of the best in a severely long time.  And with the infrared season still with about 6 or 7 weeks left and the heat wave continuing you may be wondering why I'm going to be telling you about winter photography NOW!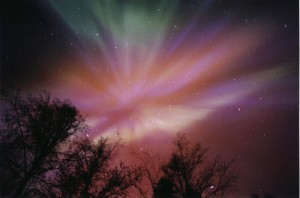 Remember a while back, I had an article published in Rural Roots Magazine? Along with my article and photos was a story about a new resource that can be a huge boost for nature photographers in Canada. If you've ever wanted to photograph the Aurora Borealis this site is what you've been looking for.
The Aurora typically begins for us in Canada in late August but the most powerful are seen in the deep winter when the north is dark for most of the day. This new site, AuroraMAX  is full of aurora borealis videos, photos and resources for the aurora photographer.
I also have a great app on my iphone (of course!) that helps you know when the Aurora is at it's peak. The Solar Monitor app has real-time solar weather reports, magnetic storm info and a plethora of other info to make your aurora photography adventures a very worthwhile excursion into the countryside.  For 1.99 is a fun addition to mu mobile photography gear.
So much for the cool weather photography, tonight the stars – star trails. And maybe some more time lapse sky shots! I'll be in my field at about 11:35 pm to start the star trail shots – no mosquitos makes this absolutely the most perfect summer ever for outdoor night photography.  Get outdoors tonight – take the dog for a late nigh walk and look up way up.  Camera or not, you will see the stars.