I've talked about tryptichs and wall decor before, but here's a new example with abstracts.
Imagine your office space or reception area with some large "real" artwork, and not those cheesy "motivational" posters. Soooo passe now!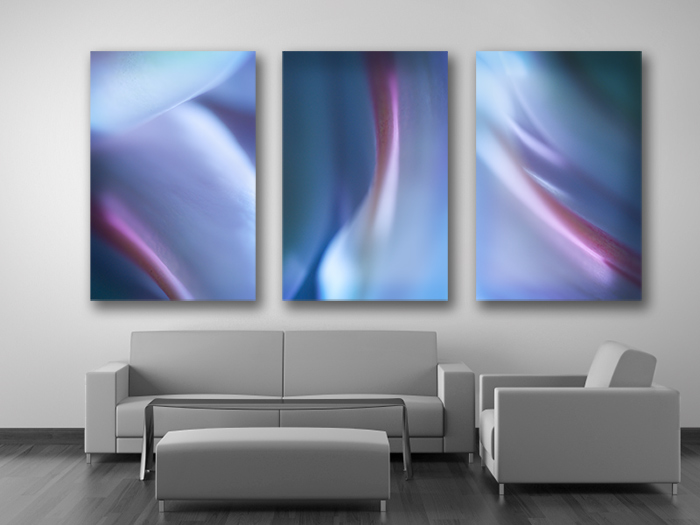 These images are uncropped macro images of a beautiful bouquet of flowers from my friend Dawn at Willow Lane flowers.  Everytime I drop in for a visit or photo lesson she gives me a breathtaking bunch of flowers.  For some reason my preference for photographic subjects are dead flowers, but this bunch was singing out to me and along with some traditional photographs, I spent a few hours in macro mode exploring the secret life of plants!
I put the vase and flowers out side in the noon sun for maximum lighting, this enabled me to keep aperture wide open and use a very fast shutter speed. Wide aperture for minimal depth of field.   🙂  Fast shutter to minimize shake.
These images were exposed as RAW files with a Sigma 105mm f/2.8 EX DG Medium Telephoto Macro Lens
, but this time I didn't use Capture NX to open them.  I opened them in Photoshop directly so the colours are more muted than they were in real life – which is the look I was after. Now the real trick here other than composing in the viewfinder, is in ACR, slide the clarity slider to the far left, which really smoothes out everything, giving it that dreamy look.
I likes the colour tones and the sense of motion even though the blooms were quite still, and the way these three just seem to be parts of a bigger whole  to belong together.  Indeed, some things are destined to be together one way or another.  What do you think?  A single print or the tryptych?
These gallery wraps are for sale as a group or indivudual canvases as limited edition signed giclee prints on canvas. They add dynamism a to your space, with a serene but exuberant energy. Great gifts, perhaps as a prize for a non-profit event, or a little reward for yourself?  Various sizes are available, although they look best BIG!  Contact me for the details.