I was off to see a client in the wonderful little city of Morden, Manitoba bright and early this morning.  First, tho I awoke in the darkness and perfect silence of 5 a.m, no birds singing yet, no crikets chirping, the coyotes WERE waking up with that eerie, throaty yipping. It's a very spooky sound to  hear a pack of them, just as skin tingling as wolves for sure! That was the first thing.
The second was the spectacular sun rise.  Seen here from my yard as I was piling all my gear into the car.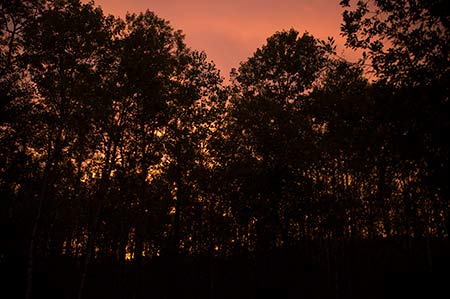 The third was the rainbow about 20 minutes later, after a pre-dawn shower. Can you imagine – a rainbow before the sun has cleared the horizon!?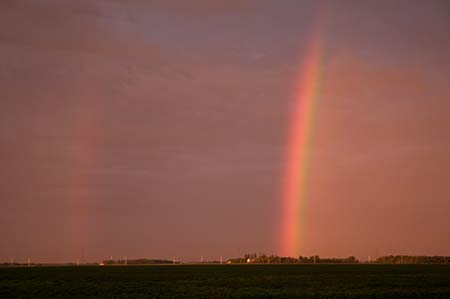 The fourth, a great visit with wonderful clients – hugs all around!!! (sorry no photo)
The fifth, three, count 'em – three, pileated woodpeckers in a tree.  Now this is a crap*y photo for sure, but I have never seen this before and it amazed me.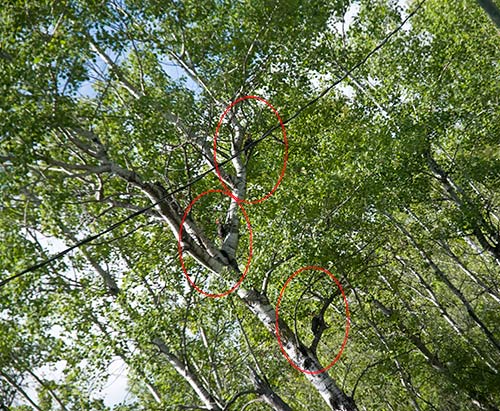 Pretty good day so far, eh?
Wait there's more…
Temperature reached 30 degrees celcius – I LOVE it. After 3 years of miserable summer weather, this little heatwave is a gift.
11:00 pm –  dark again, nice and warm outside still, and it's the Perseid meteor shower – sometime this week, not sure when the peak is, but the late night dog walk was a chance to see a handfull of falling stars. awesome in the true sense of the word.
And now it's past midnight so the day is officially over and nothing happened or didn't happen to change this perfect day.
Have a perfect weekend.